Moment to Momentum – SVLG Racial Justice & Equity Summit
PRESENTED BY
On Wednesday, March 29, SVLG will be hosting Moment to Momentum, our in-person Racial Justice & Equity Summit, at Levi's Stadium in Santa Clara.
Moment to Momentum: The theme of SVLG's Racial Justice & Equity Summit is a challenge – to ourselves, to our stakeholders, to our member companies. Nearly three years following America's most recent racial reckoning, how are Silicon Valley companies living up to commitments made regarding corporate diversity and working to move the needle on racial equity commitments, and what can be done to keep the momentum going? SVLG invites you to join us at Levi's Stadium in Santa Clara on Wednesday, March 29 for our Racial Justice & Equity Summit, where we will examine Silicon Valley and the Innovation Economy's progress on these pressing matters.
We are pleased to have Van Jones, CNN host, and Dream.org founder as our keynote speaker for the event! In areas as diverse as clean energy solutions, criminal justice reform, and racial inclusion in the tech sector, Jones has a rare track record in the modern era of bringing people together to do hard things. This will be an evening of conversation and community, and we will dive into discussions on Voices of Experience: DEI Change Makers Share Their Insights and Driving Impact: Changing the Face of Corporate Leadership. Join us to hear and learn from our speaker's experiences, connect with mission-aligned colleagues throughout the tech sector, and work to ensure we continue catalyzing change in Silicon Valley and beyond.
This is a SVLG members only event and complimentary tickets are available on a first come first serve basis.
PROGRAM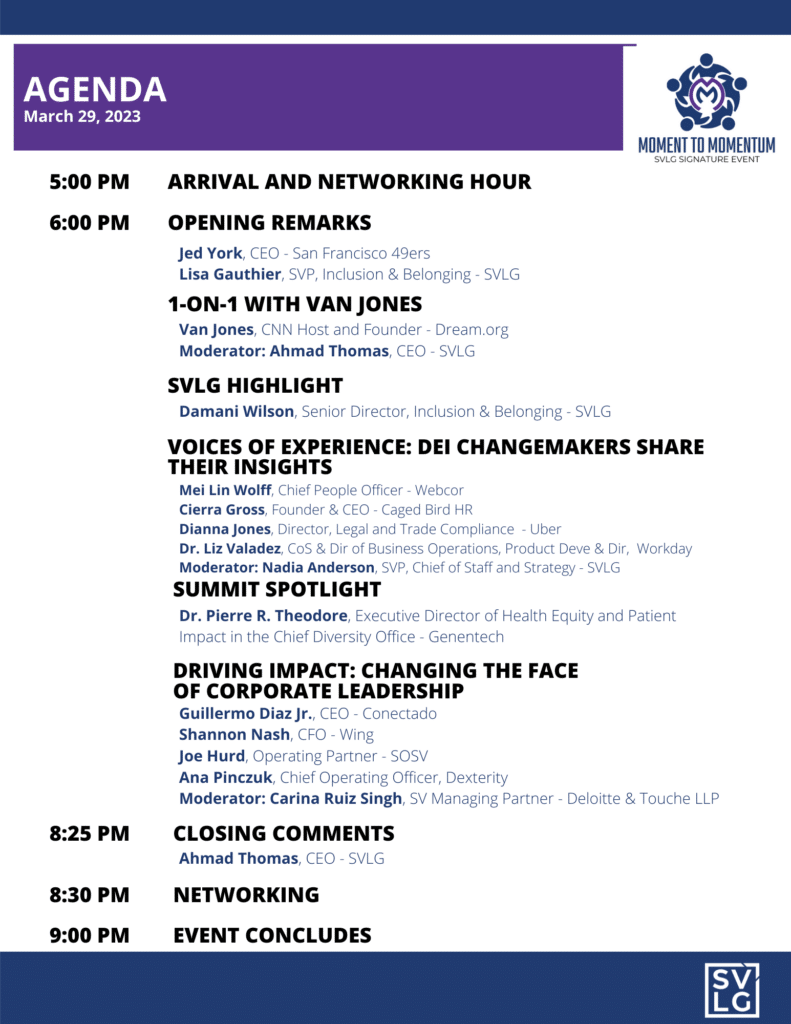 ---
PARKING
TICKETS
SPONSORS
If you would like to sponsor this event, please contact events@svlg.org.
NOTICE
PLEASE BE AWARE THAT BY ATTENDING THIS EVENT, YOU CONSENT TO YOUR VOICE, NAME, AND/OR LIKENESS BEING USED, WITHOUT COMPENSATION, IN ANY AND ALL MEDIA, WHETHER NOW KNOWN OR HEREAFTER DEVISED, IN PERPETUITY. YOU RELEASE THE SILICON VALLEY LEADERSHIP GROUP AND SILICON VALLEY LEADERSHIP FOUNDATION, ITS SUCCESSORS, ASSIGNS AND LICENSEES FROM ANY POTENTIAL LIABILITY
Speakers
Ana Pinczuk

Chief Operating Officer, Dexterity

Damani Wilson

Senior Director of Racial Justice & Equity, SVLG

David Palter

Sr Director, Higher Education & Workforce, SVLG

Dianna Jones

Director, Legal and Trade Compliance, Uber Technologies

Dr. Liz Valadez

Chief of Staff and Director of Business Operations, Product Development and QA, Workday

Guillermo Diaz, Jr

Founder and Chief Executive Officer, Conectado, Inc.

Jed York

CEO, San Francisco 49ers

Lisa Gauthier

Sr. Vice President, Inclusion & Belonging, SVLG

Nadia Anderson

Sr Vice President, Chief of Staff and Stratagy, SVLG